⛅ Weather Radar & Forecast: A useful & needful weather app for you! ⛅
Weather Radar & Forecast app: accurate real-time weather report, minute-by-minute forecasts, 9 day's weather forecast, weather radar, weather details, severe weather alerts, weather widgets and weather lock screen, is your best choice to get comprehensive weather information.
⛅
------Main Features------
⛅
☀
Real-Time Weather
: Weather condition now. Temperature in status bar.
☀
Weather Forecast
: Minute-by-minute & hourly & 9 day's weather forecasts.
☀
Weather Radar Maps
: Fast-loading radar maps show clouds, temperature, waves, pressure, wind speeds, water temperature readings, rain & snow cover and more. Helpful for ski reports, travel forecasts...
☀
Weather Details
: Humidity readings, pressure, barometric pressure charts, dew point readings, UV index readings, air quality, wind forecasts and more.
☀
Weather Widget
: Various weather widgets with real-time weather, weather forecast, city, clock & calendar.
☀
Severe Weather Alerts
☀
Sunrise/sunset Time
☀
Moon phase
☀
Crowd Reporting
☀
GoRun Sports Report
☀
Ski Report
☀
Airport Report
☀
Global Coverage
☀
Weather Alarm
☀
Weather forecast videos
☀
Pollen forecasts
☀
Disease outbreak alerts
⛅
------Personalized Design------
⛅
☀
Modern UI Design
: Different weather special effects for better user experience.
☀
Weather Forecast on Lock-Screen
: Keeps your Android lock screen beautiful and useful.
☀
Various Weather Widgets on Desktop
☀
Weather Camera
: Camera with weather stickers.
Modern UI design of Weather Radar & Forecast, easier for you to know the local weather and weather forecast. By using this Weather Radar & Forecast app, you can not only know today's weather, but also see 9 days weather forecast. Just like put a weather channel in your pocket.
Smart weather radar maps detect your current located city accurately. You can not only know the local weather, but also search for other cites' weather information and weather forecast.
Weather Radar & Forecast is useful & needful for everyone. No matter you are parents or a farmer or a guide or a traveler or a outdoor sports enthusiast or...
With the help of Weather Radar & Forecast, make your daily schedule properly. The weather information is all in your control!
Contact US :
Email :
[email protected]
Privacy Policy: http://tianqi.mdc.akamaized.net/weather.html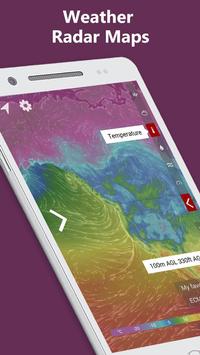 Mod info
Unlocked
What's New
New UI design & new special weather effects. Fixed bugs.
How to Install
Install the steps:
1. First you must uninstall Weather original version if you have installed it.
2. Then, download Weather Mod APK on our site.
3. After completing the download, you must find the apk file and install it.
4. You must enable "Unknown sources" to install applications outside the Play Store.
5. Then you can open and enjoy the Weather Mod APK.
Is Weather Mod Safe?
Weather Mod is 100% safe because the application was scanned by our Anti-Malware platform and no viruses were detected. The antivirus platform includes: AOL Active Virus Shield, avast!, AVG, Clam AntiVirus, etc. Our anti-malware engine filter applications and classifies them according to our parameters. Therefore, it is 100% safe to install Weather Mod APK on our site.