Skim Plus gives you the ability to Scan for Bluetooth Skimmers placed on or in devices such as Fuel Pumps and ATM's which steal your Credit or Debit Card Information.
Criminals are getting more sophisticated with their techniques when it comes to stealing our Credit or Debit Cards. Now with Bluetooth, all these criminals have to do is pull up at the Gasoline Pump and Download your Credit Card Information from the Nearby Bluetooth Skimmer they placed in the machine. This wireless technique helps prevent these criminals from being caught since they no longer need to open the machine to retrieve stolen credit card information. This upcoming year we will see more Credit and Debit Card theft than ever before and the New Chip Cards are still subject to this.
You NEED Skim Plus, don't trust the unbroken Security Labels these criminals buy Online.
When using Skim Plus all you need to do is hit Refresh, this will quickly search for any Bluetooth Skimmer hardware near you up to 100 meters or 330 feet. It will then let you know if any known Bluetooth Skimmers are present before you swipe your card.
Skim Plus marks detected Bluetooth Skimmers onto a Map so you can see all the skimmers which were found across the globe and stay far away from those locations when you use your Credit or Debit Card. This is so you know that a Bluetooth Skimmer had been detected at a specific Gas Station or ATM. This also lets Law Enforcement know where a Skimmer has potentially been spotted.
Skim Plus has been tested by Authorities with Success across many different types of Bluetooth Skimmers. We will keep the app up-to-date with any new reports from the field.
If Skim Plus didn't detect a Bluetooth Skimmer.
Please Email:
[email protected]
Skim Plus does NOT connect your device to Bluetooth Skimmers.
Criminals can change the PIN Numbers, and Names of their Bluetooth Skimmers.
Skim Plus goes beyond the Name and PIN Numbers by examining the Hardware itself.
Skim Plus is a Bluetooth Skimmer Scanner that Plots All Detected Skimmers onto a Map.
Skimmers that are found will remain on the map for thirty (30) days.
Skim Plus detects Bluetooth Skimmers, not Network/Physical Skimmers.
Bluetooth Skimmers are on the rise. Skim Plus wants to put a stop to it.
Permissions Required:
BLUETOOTH - Discover Bluetooth Devices.
INTERNET - Upload Bluetooth Skimmers.
LOCATION - Launch Google Maps.
STORAGE - Launch Google Maps.
Free Beta Version Does Contain Advertisements.
Free Beta Version Does Not Contain World Map of Found Skimmers.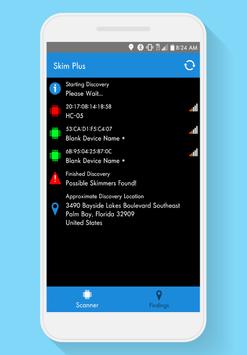 Mod info
Unlimited Money
What's New
* Android Oreo Updates
* Including New Skimmer Types for Detection
How to Install
Install the steps:
1. First you must uninstall Skim Plus original version if you have installed it.
2. Then, download Skim Plus Mod APK on our site.
3. After completing the download, you must find the apk file and install it.
4. You must enable "Unknown sources" to install applications outside the Play Store.
5. Then you can open and enjoy the Skim Plus Mod APK.
Is Skim Plus Mod Safe?
Skim Plus Mod is 100% safe because the application was scanned by our Anti-Malware platform and no viruses were detected. The antivirus platform includes: AOL Active Virus Shield, avast!, AVG, Clam AntiVirus, etc. Our anti-malware engine filter applications and classifies them according to our parameters. Therefore, it is 100% safe to install Skim Plus Mod APK on our site.